Welcome to StacyKeiblerFans.com!
Who could ever forget Stacy Keibler? Those long legs and fighting other women in WCW are unforgettable – plus the fact that she was voted the 2004 Babe of the Year. Also, after winning she had said she'd bend over backwards to make the crowd happy – that's a dedicated, beautiful star if I may say so myself. She's been placed in What About Brian as Stephanie, and many different shows. She's dated David Flair then to Test for quite some time and if you've got her, you hope you can keep her, that's for one thing. She's 5'11" and weighs 136 pounds of pure perfection. She was a Nitro Girl named Skye, Miss Hancock, Dutchess of Dudleyville, and most notably 2004 WWE Babe of the Year.


Ever since she won the contest in 1999 for the WCW dance troupe 'Nitro Girls', her career has skyrocketed ever since then - she's known worldwide, and is almost worshiped worldwide because of her remarkable beauty. We've all seen her step over the third rope while trying to get in the ring, wait several seconds, and enter for our own personal amusement; she's a real crowd pleaser. She was once nicknamed "The Weapon of Mass Seduction" on Dancing With the Stars, a famous celebrity dance contest show. Also, she's been seen on the cover of ZZ Top for the song "Legs" by Kid Rock and many different others, but that was the most memorable and particularly favorite one of all time. She had competed in the second season of Dancing with the Stars with her partner Tony Dovolani, and graced the dance floor for the entire world to see.

October Road spoilers!!!  December 17, 2007

Despite getting some bad reviews, ABC decided to renew October Road for another season. And to bring some pizzazz into the new season, the executive producers have not only focused on character development, but also on a guest-star lineup that will help shake things up at Knights Ridge. And the first guest is Dancing with the Stars and What About Brian star Stacy Keibler who is slated to appear in the show's 12th episode. She will play Eddie Latekka's (Geoff Stults) former flame. For those not in the know, Geoff Stults is Stacy Keibler's real-life boyfriend. Sweet! According to one executive producer, the character of former WWE diva is "the high school prom queen and Eddie's girlfriend, and she left town, broke Eddie's heart, and married a businessman. Turns out that her husband was gay, and she's now come back to the Ridge to lick her wounds. Her return sends a chill, obviously, up [Eddie's current girlfriend] Janet's [Rebecca Field] spine." Oooh, sounds thrilling! I wonder how the three characters will interact in this new love triangle! If you wanna know, catch drama unfold every Monday night at 10/9c on ABC.

Wedding Bells for Stacy Keibler?  December 5, 2007

Don't worry guys, the wrestler-turned-actress isn't ready to tie the knot yet so there might be that *slim* chance you can hookup with her if (and when) she breaks up with her boyfriend. Hehe! As you all know, it's been two years since Stacy Keibler began dating 7th Heaven hunk Geoff Stults but an engagement is still far off. She replied a solid "no" when asked of future wedding bells. The former wrestler tells OK! that she and Geoff are perfectly content where they're at and shares their relationship secret in why they lasted this long. Yes people, two years of relationship is a lifetime in Hollywood. Anyway, Stacy Keibler shares that communication is the key. She tells OK! at the National Kidney Foundation of Southern California Great Chefs event, "Communication … We have our own lives that we bring together. We both have a lot of things going on." The 28-year old actress can be seen on The Comebacks, What About Brian and The George Lopez Show. Stacy Keibler is also set to appear on October Road, which returned to ABC last November 26.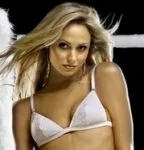 Is Stacy Keibler your all-time fave female wrestler?  November 11, 2007

I'm asking you that coz the former WWE diva was No. 1 on a list of all-time favorite women wrestlers on SI.com (SI = Sports Illustrated) earlier this week. Apparently, even if the gorgeous former wrestler isn't active anymore in the wrestling industry, she's still popular with male wrestling fans. That shows good taste guys, lol! On other Stacy Keibler news, her role for the ABC drama October Road will debut in the show's 12th episode. Which, by calculations, will air after the first of the year 2008. So if you're devoted to her, mark your calendars so you won't miss it! Geoff Stults, the diva's yummy boyfriend, is also in the upcoming ABC show. Oh, by the way, Stacy Keibler just celebrated her 28th birthday this week! She was seen partying on 10/20 at the LAX Nightclub in Las Vegas, Nevada. Happy birthday Stacy and many more happy ones in the future! =)

Stacy Keibler won't go back to WWE  October 23, 2007

And it's not that she doesn't want to come back but its coz WWE hasn't contacted the former WWE Diva recently. And Stacy Keibler is fine with that. She says, "There's usually not a one-time appearance kind of thing. It's usually getting on the loop and doing all the house shows [in WWE], and I'm just not interested in traveling like that right now. I will never say never, but I just couldn't deal with that kind of lifestyle now." If you remember, Stacy Keibler and WWE parted on unfriendly terms last year coz WWE informed her (while she was in Dancing with the Stars) that they were not going to renew her contract. But, because her popularity soared after the dance reality show, WWE contacted her about possible projects. Stacy Keibler relates that "After Dancing with the Stars, I got a call from Johnny [Laurinaitis, WWE senior vice president of talent relations], and he was like, 'We'd like to see if we can do something with you. But I was still injured [sprained ankle, pulled groin] from Dancing with the Stars. I couldn't do anything because I was still under a doctor's care, and it just didn't work out."


Caught! Stacy Keibler in Intermix opening  September 27, 2007

Our favorite former WWE Diva is such a busybody these days. After her stint in the popular show, Dancing with the Stars, Stacy Keibler is certainly going places in Hollywood. Aside from being rumored that she'll have her own sitcom soon, Stacy is also working on a comedy movie – The Comeback, under the helm of Punk'd producer Adam Goldberg. By the way, she appeared twice in Punk'd; the second time she appeared, she was punk'd by her boyfriend, George Stults. Anyway, Stacy Keibler was most recently seen this week (in real life) in the opening of Intermix, a clothing store. TMZ.com caught her on camera, and she looked stunning and sexy as usual. Other celebrities seen in the said events were Kanye West, 50 Cent, Perez Hilton (lol!), etc. This coming October, according to her interview in Six Degrees magazine, Stacy will be appearing in October Road, a new drama on ABC. Watch out for her stint!